Ever been around the dinner table at holidays and paused to take a long, hard look at your family? Depending on the dynamic, it can be boatloads of fun or a complete disaster to get the gang back together. But hey, that's family right? 
Our writers had the idea to compare the popular social media channels to stereotypical family members. Because even if you don't understand social media, you can definitely understand at least one of these below.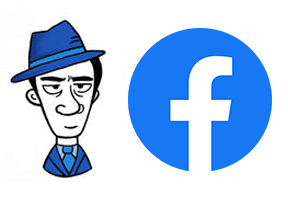 Facebook: The Godfather of Social Media 
If you don't know what Facebook is… where have you been the past two decades? Since its conception in 2004, Facebook has risen to the top of the social media usage – the 3rd most used website in 2019. While other social media channels have hit the scene and are growing in popularity, 71% of U.S. adults still use Facebook. 
Facebook is one of the longest standing social media apps to date, and has gone through significant changes to fit the needs of its consumers. What started out as a way to connect with people you know has turned into one of the most powerful marketing tools of the 21st century. And with great power, comes great responsibility. We at Vector & Ink see a great benefit for businesses to utilize Facebook and its access to connect with thousands of potential customers.  You may not like Facebook, but you certainly have to respect it for the trailblazing it created. We like to think of it as an offer to advertise that you can't refuse. 
Pro Tip: Utilize links from your blog or website to increase engagement numbers and build a professional reputation on Facebook with your audience.
Instagram: The Fun Aunt that Always Travels 
Ah Instagram, the fun, flirty app that took the world by storm; 1 billion people now use Instagram every month! What was initially created as an online scrapbook has now turned into a powerful branding tool for businesses. Some individuals are able to run an entire business off the app, while others can't figure out that the front camera is never flattering when the angle is below our chin. We're here to tell you that- yes, there is a happy middle where you can reside. 
Pro Tip: If you can photograph the products or services you sell professionally, do it! 
LinkedIn: The Uncle that Networks at Christmas
We all have that one uncle who thinks he knows everything because he's best friends with everyone. You know what we're talking about; like networking with your aunt's new boyfriend about who he's connected with over the Christmas ham and eggnog. Some may say pesky; we say opportunistic. 
LinkedIn is a place where people can slide into other people's DM's with the intention of strictly being professional. With over 610 million members, you can find/post jobs and volunteer opportunities, share career milestones, and have authentic conversations with individuals in your field. It's a way for your company to brand itself against the competition while attracting potential new hires and customers. Not only should your business have a LinkedIn profile, but you should as an individual as well. You never know who you can connect with and where it will lead; just leave the eggnog at home.
Pro Tip: Make sure that YOUR individual profile matches the look and feel of the business you are currently working for! 
Pinterest: The Mom Who's Got it Going on
We know "Stacy's Mom" just jumped into your head, but hear us out. Pinterest is a digital corkboard, where you get to pin all sorts of fun ideas for later. Whether it's books to read, DIY's to try, recipes to cook, or clothes to buy, Pinterest has it all and then some. It's an aesthetically pleasing application, and while Instagram can offer the same kind of content, Pinterest still keeps 322 million monthly active users. 
Pinterest is a great tool to connect with potential customers by providing them with information about your products and services through images. Pinterest can also act as a powerful branding tool by showcasing similar products that complement yours. Even if it's a simple "re-pinning," consumers will have a link to your profile, and you will continue to make impressions if you continue to crank out content they are willing to digest. Most Pinterest users are in the age bracket of 30-49, and 7/10 of users are female. Remember, Pinterest is where all the cool, hip moms hang out. 
Pro Tip: Get creative with this as a business. Stay away from streamlined images and get creative with different curated lists. Put yourself in the consumer's shoes! 
YouTube: The Little Sister Who Vlogs
It's always interesting seeing how different generations use social media. While YouTube has been, and always will be, around, its usage has drastically changed over the years. YouTube has 2 billion logged-in monthly users. While some use it as a historical archive, others use it for entertainment, education, and yet another way to support their livelihood. Can you believe that there are people that are interested in what your sister eats for breakfast? Strange, but profitable times.
Pro Tip: Steward this one well – the next generation coming (Gen Z) won't know a life without video content! 
Snapchat & Twitter: The Cousins You Wish Would Stay Home
Professionally, we don't advise that Twitter and Snapchat be used for business purposes. Snapchat is the cousin that ignores the family and continues to send selfies to her friends and boyfriend with the infamous dog filter. It's an app that is meant to personally connect with friends and family; with select individuals who watch the news and gossip highlights. The harsh reality is that if people want to see what your business is like, they have other social media channels they can utilize for that.
Twitter is the cousin that after a couple of beers, likes to spark a fire and stand back as it implodes on itself. It's a platform that houses sassy and snide jokes, political rants, compacted sports updates and every-so-often, cute videos of animals. To say the least, it's an app that users use for very personal or specific reasons, and if you can't deliver the kind of content they're looking for, it's best to back away slowly and never look back. Twitter users can smell fear.
Pro Tip: Use these freely in your personal life, but save yourself the time and put your efforts elsewhere (like IG, FB, or LI!) 
We hope that you found some comedic relief, along with some helpful tips on how to choose what social media channels are right for your business, in this blog. Check back often to see what else Vector & Ink cooks up!