Hey Moo
Branding | Design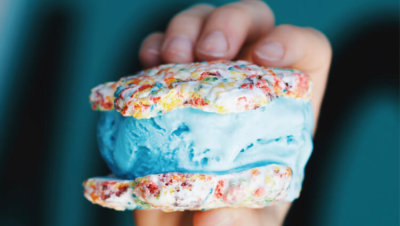 Overview
The best time to create a new brand you may ask? Amidst a pandemic.
We'd like to introduce you to Hey Moo, an endeavor that started with the inspiration of the words "ugly cow." A brand that's sister brand is a coffee house and roastery. A brand logo inspired by a painting of a funky cow. A brand that strives to be quirky, weird, locally grown, and *quick lick before it drips* good.
This brand found itself being crafted and molded over Zoom calls from living rooms and designed in home offices. The clients signed and dropped off the contract days before Vector & Ink staff was sent home in March 2020 due to COVID-19, but boy did we make it work.
In the end, what was unveiled in The Grateful Shed's dessert airstream was the ice cream sammie to be ordered in "The Herd" (3 halves of 3 different sammies), a menu of other yummy sandwiches, and later on "Mega Milkshakes" would join the crew too! Our team designed the menu, the drive-through menu, the logo, the name, and the space itself!
Well pleased was the Shed as the branding was cohesively done to fit the space and mooooooove both businesses further. 🐄🍦🖤
"Team was fun and energetic. Was a joy to work with! Loved working with them so much I am working with them on another project."
– Jordan Heesch, Owner/Creator of Hey Moo and Bella Goose Coffee